Is it possible to get a hangover from food just like you can get a hangover from alcohol?

Based on my recent experience, I think perhaps so …

Every time I get sick of living in NYC, something comes along to make me glad I'm here. During the weekend of May 17-18, it was just such an occurrence as I spent it at
The 35th Annual 9th Avenue International Food Festival & Street Fair
in Manhattan. It's a weekend where a diet gets put aside for a couple of days so you can indulge yourself in a cornucopia of foods from around various regions of the U.S. as well as around the world along a 20-block stretch in midtown.

Some folks mark the beginning of summer as Memorial Day Weekend in late May and the end of Summer as Labor Day Weekend in early September; for me, summer is bookended by a pair of street fairs: The 9th Avenue Food Festival in mid-May and
Little Italy's San Gennaro Festival
in mid-September. With all due respect to Ernest Hemingway, this is
my
idea of a "moveable feast", except that the feast is actually stationary and the people have to do the moving in order to partake of the food.

The neighborhood where the 9th Avenue festival is held is known unofficially as Hell's Kitchen; officially, its name is Clinton. It's just north of a neighborhood called Chelsea; there used to be a restaurant on the border called Chelsea-Clinton, which got a lot of notoriety when Bill was first elected, as you might imagine.

Why 9th Avenue? That location has a tremendous selection of restaurants of different kinds jammed up next door to each other for that entire stretch – Mexican, French, Afghani, Italian, Argentinean – you name it. Sprinkled in between, plenty of Irish pubs, too. Here's an example – an Indian restaurant (left) next to a Greek restaurant (right).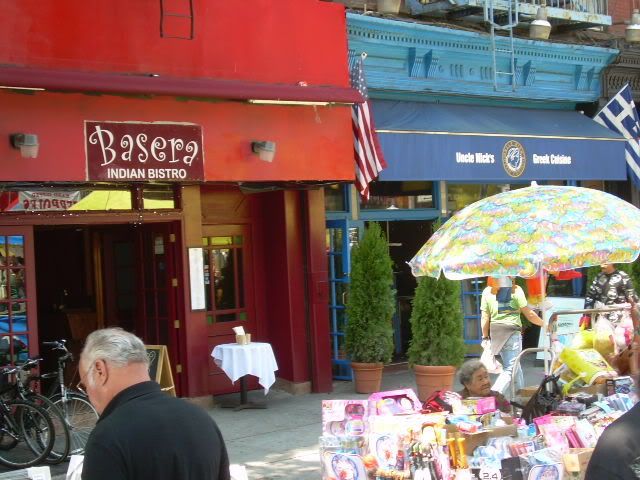 In fact, the Greek place positioned a musician outside to attract business.
Saturday had great weather, but it rained on Sunday, keeping the crowds down a bit (it always seems like it rains one of the two days this street fair is held). Here's a view of the mass of humanity on 9th Avenue Saturday afternoon ...
Passing one of the Irish pubs, I noticed they were selling sandwiches of freshly roasted pig for $5; the pig was being cooked on a spit right there on the street next to their stand.
It looked delicious, but I had to pass it up for now because I was a man with a mission: The Onion Bloom. My tradition with The Onion Bloom at this street fair goes back many years; I would have one of these each day of the fair, among other items. Having gotten older and slowed down considerably, I now find myself unable to finish the entire thing – and at that, I'm pretty much done for the day, as far as eating is concerned. So, my plan was to continue my tradition of eating -- no,
attacking
-- an Onion Bloom on Saturday, but try other things on Sunday.

Then, as I approached 53rd street, there it was – Shangri La:

I immediately confronted my fate for the day … (Note the big fryer in the background where they cook the batter-dipped blooms)

They never give enough of that horseradish for dipping.

After consuming that Onion Bloom, I was even more useless than usual, so I just waddled through the fair checking out some of the other booths. In addition to the wide range of foods, there were merchants selling goods and services; they even set up stages for various performers to entertain. For the kids, there are games and rides as well.

Entertainers included dancers – this was a group of senior citizens from Harlem:



Given this was Sunday when it rained, the stage was wet and I expected one of these geezers to take a dive and break a hip; not particularly wishing to witness that spectacle at the moment, I didn't stay around too long after these shots were taken.

Interestingly, there were booths for several lingerie merchants, including this one:
I looked desperately for a sign that read, "SALE! Women's Panties Half-Off!". No luck.

Sunday's fare included a variety of seafood – clams, fried shrimp, scallops and soft shell crabs (one stand sold pulpo, a plate of baby octopus). But without a doubt, the most unusual thing I sampled this day was alligator sausage.

Near 48th street was a Cajun restaurant with its booth set up right in front; their sign boasted of gumbo, crayfish, jambalaya and many other southern delicacies, but when I noticed the inclusion of alligator sausage, I just couldn't resist.
As far as taste was concerned, I didn't notice much of a difference from pork sausage, however there was a huge difference in texture; I found the casing to be tough, almost leathery and required something of an effort to bite through. Getting past that, however, it was definitely something I'd consider eating again. Dipping it into some spicy mustard really enhanced the flavor.

Just about the only things I didn't eat at the fair this year were meatballs, haggis and head cheese. But that doesn't mean they weren't there, just that I didn't go looking for them.

So, if you ever make a trip to NYC
but can't manage to schedule it during the food festival in May, at least try to take a walk around 9th Avenue to look for some restaurants to try during your visit. You may just wind up discovering your next favorite dish.