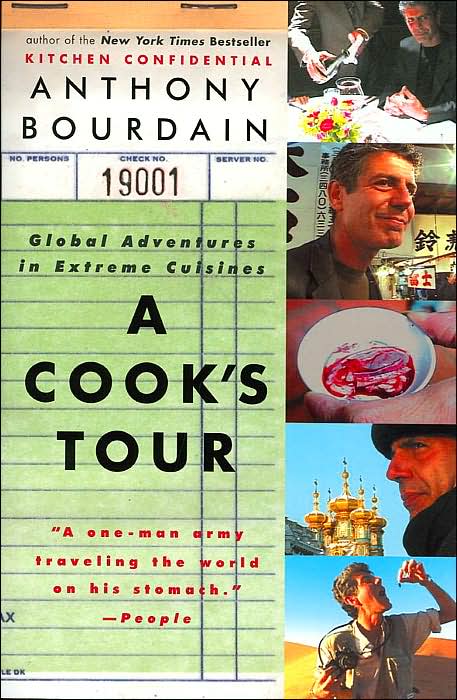 A Cook's Tour ... by Anthony Bourdain


I guess you could say that for me, it's been The Summer of Bourdain.
After being a fan of the guy's Travel Channel TV show for over a year and a half now, I've finally decided to explore Bourdain's writing and have been as entranced by it as much as his "No Reservations" show. Could it be his snark, his readiness to imbibe, his dour outlook?

The answer to all three, of course, is a resounding Yes! ©®

Bukkake Boy Entertainment (BBE), a wholly-owned subsidiary of Bukkake Boy Enterprises, LLP (BBELLP). Reuse in any form without express written permission from either BBE or BBELLP is strictly forbidden.

TNMC respects the intellectual property rights of others and is committed to complying with U.S. copyright laws, including the Digital Millennium Copyright Act of 1998 ("DMCA"). The DMCA provides recourse for owners of copyrighted material who believe their rights under U.S. copyright law have been infringed on the TNMC board.

As a provider of transitory digital communications, TNMC activities are typically protected by a safe harbor provision of the DMCA (see 17 U.S.C. 512 (a)). TNMC is therefore not obligated to respond to a copyright owner (or the owner's agent) nor does TNMC have a duty to remove or disable access to material transmitted, routed or connected to the TNMC Board that is initiated and/or directed by an individual user.

If you believe that TNMC has infringed your copyrighted work in a way that does not fall within the applicable DMCA safe harbor provision, please provide notice to our Copyright Agent. The notice must include the following information as required by the DMCA (see 17 U.S.C. 512(c)(3)). In addition, the notice should include the basis for your belief that TNMC is not merely providing transitory digital communications under 17 U.S.C. 512(a) of the DMCA:

1. A physical or electronic signature of a person authorized to act on behalf of the owner of an exclusive right that is allegedly infringed;
2. Identification of the copyrighted work claimed to have been infringed, or, if multiple copyrighted works at a single online site are covered by a single notification, a representative list of such works at that site;
3. Identification of the material that is claimed to be infringing or to be the subject of infringing activity and that is to be removed or access to which is to be disabled, and information reasonably sufficient to permit the service provider to locate the material;
4. Information reasonably sufficient to permit the service provider to contact the complaining party, such as address, telephone number, and, if available, an electronic mail address at which the complaining party may be contacted;
5. A statement that the complaining party has a good faith belief that use of the material in the manner complained of is not authorized by the copyright owner, its agent, or the law;
6. A statement that the information in the notification is accurate and under penalty of perjury, that the complaining party is authorized to act on behalf of the owner of an exclusive right that is allegedly infringed.

So there!

Originally, Bourdain's success with the book "Kitchen Confidential" eventually lead him to a TV show on the Food Network -- a show (and, especially, a network) which he would eventually come to defile in later years.
While the TV show may be no more (for which he seems immensely thankful), the author is ready to offer many detailed insights which were apparently unavailable to him during each episode's filming. I must admit that while I have never seen any of the episodes from this TV show, I now remain immensely curious about each and every one of them (especially the ones that feature his Russian friend, Zamir).
Whether it's the heartwarming trips to France with his brother, his comical adventures to Russia with Zamir, or his dangerous experiences in Asia (especially, Cambodia), this book's stories remain endlessly fascinating -- even though the TV shows on which it was clearly based no longer exist.

And now, I'm hungry!