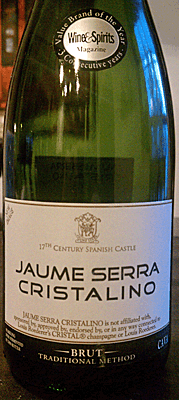 Celebrating New Year's Eve with friends at a party this year? Great! Can't afford to buy Champagne? Not great! But not a tragedy, either. Recently, I attended a tasting of sparkling wines – consisting of both authentic Champagnes and not. I am glad to report that there are many affordable options out there that you can serve to your guests – and they'll think it's the real stuff! Well, so long as you don't show them the bottle's label, anyway …
Your mission, should you choose to accept it: purchase a bottle of sparkling wine for only ten dollars. No problem! Jaume Serra Cristalino NV Brut Cava is a sparkling wine from Spain that carries the same alcohol punch as the expensive stuff but costs ever so much less. It's a blend of three Spanish grapes – Macabeo (50%), Parellada (35%) and Xarelo (15%). Why is it so inexpensive? According to the representative from the distributor, this is due to the fact that the manufacturer purchases the grapes from a co-op, making Cristalino more cost effective to produce. If your guests ask questions, tell them you're serving Cristal … the Spanish version …
Another Cava that's a bit more expensive but still reasonably priced is Naveran 2008 Dama Cava. This one also uses the Parellada grape (40%) but uses Chardonnay for the remainder. Naverana is a 2008 vintage; this is one of the smaller growers and the manufacturer makes fewer bottles.
Prosecco is Italy's gift to the sparkling wine market. Althea NV Brut Prosecco Superiore is one such that's made in a rather interesting method called Charmat. Typically, the bubbles in sparkling wine come from a second fermentation that occurs in the bottle. However, the Charmat method is a little different – here, the wine is placed in stainless steel pressurized vats where CO2 is injected. Effectively, they're carbonating the wine much in the same way that soda is carbonated. The distributor highly recommended using this Prosecco in a cocktail – such as Mimosas and Kir Royales.
A Crémant is a French sparkling wine that's made with the same strict rules as actual Champagne – but since it's not actually made in that region, it can't technically be called Champagne. I tried André & Mirelle Tissot NV Crémant, which comes from Jura, France. If you're looking for a sparkling wine that you can use for more than merely toasting to the new year, this may very well be the one for you. The representative from its distributor suggested that this could be used either as an aperitif or with a meal.
Feeling patriotic? Have the urge to buy American in this weak economy? Then have I got a sparkling wine for you! Gruet NV Sparkling Wine comes from Albuquerque, New Mexico. With 12% alcohol, this one is a non-vintage, so don't even bother trying to look for an age on the label. Consisting of half Chardonnay grapes and half Pinot Noir, you are duty-bound to save American jobs – as well as save a few dollars in the process.