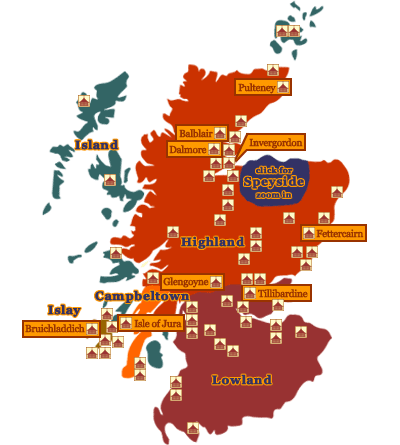 Recently, I had the opportunity to take a class at The Astor Center of New York City called "Scotch Whisky: A Regional Tasting Tour" where attendees were given the opportunity to sample Scotches from different parts of Scotland to get a better appreciation of how they differed from one part of the country to another. This gave me a chance to not only revisit a couple of my own personal favorites but also, to try ones I'd heard of but never tasted before, as well as to provide an occasion to learn about some that were unfamiliar to me.
The evening actually began not with a Scotch but instead with an old cocktail made with the spirit. Blood & Sand was a cocktail created in the era of silent movies as something of a tribute to the Rudolph Valentino film of the same name. In this flick, Valentino played the part of a bullfighter and it was believed that the combination of ingredients for this drink perfectly matched the spirit of the film. The recipe is as follows:
¾ oz. Benriach 12 year old Scotch

¾ oz. Luxardo Cherry Liqueur

¾ oz. sweet vermouth

¾ oz. orange juice
Shake up all of the ingredients in an ice-filled shaker, then strain into either a coupe glass (which is how we were served the cocktail in class) or a cocktail (i.e., martini) glass.
Benriach Scotch is a peated spirit from the Speyside region of Scotland; the instructor said he used that particular brand of Scotch because it is a relatively inexpensive yet flavorful type of Scotch that lacks any kind of oiliness. Additionally, you will notice that each one of the cocktail's four ingredients are used in equal parts; the instructor pointed out that this is the mark of what he regarded as a finely crafted cocktail which doesn't have any one ingredient completely dominating.
We started our tasting with one from the Lowlands region (Auchentoshan 12 year old), then moved north to the Highlands (Old Pulteney 12 year old) and Speyside (Glenrothes Select Reserve Single Malt, Glendronach 15 year Single Malt) before going to Campbeltown (Springbank 10 year old Single Malt) and finishing up with the islands – specifically, Islay (Laphroaig 10 year old and Port Charlotte PC7). In tasting each Scotch, we sample the dram first on its own, beginning with a thorough nosing to get a sense of its aroma, then tried it with a few drops of water added to see how this changed the chemical composition as well as to determine if it made the Scotch better or worse or merely different. This blog post will concern itself with only the first and last items from the tasting menu as these were two extremes.
The Lowlands region is in the southern portion of Scotland, near Ireland. Its Scotches are triple-distilled and contain no peat, which tends to make them good as an introductory Scotch. We tried an Auchentoshan 12 year old from the Lowlands, an 80 proof spirit aged in a combination of both bourbon and sherry casks. Adding the water to it released its sweetness; its lightness made for a good summertime Scotch.
Ending the evening was the Islay-based Port Charlotte (PC7). Aged only seven years, this had an even peatier and smokier nose and taste than even Laphroaig, which we had just tasted. This one also had the strongest alcohol content at 122 proof – as a result of that combination, there were quite a few people who started to cough and choke because they weren't ready for such a powerful Scotch.
Have you ever tried any of the Scotches on this menu? If so, please leave a comment and share your experience.