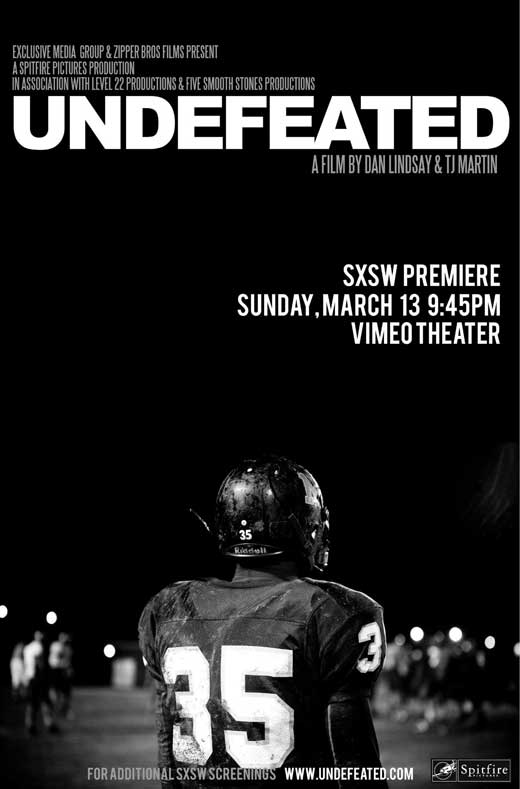 This week in my movie class, we saw the Academy Award nominated documentary titled "Undefeated" .
Synopsis
When the coach of a high school football team is at the end of his rope, can he somehow manage to turn them into winners and reach the playoffs?
Story
The Tigers are the football team for Manassas High School in North Memphis, Tennessee; they have a long reputation as a bunch of losers, but their coach, Bill Courtney, is determined to turn around the fortunes of the team and its individual players, who come from a very poor section of town and have precious little in life to look forward to except for playing football. Courtney, a local businessman, has been a volunteer at Manassas High School for over six years and he may have finally reached his breaking point.
It's bad enough that this team has a history of never having won a playoff game, but what's particularly painful for Coach Courtney is the fact that the boys on the team have so many personal problems that distract them from their athletic pursuits; Courtney finds he also must be something of a surrogate father in addition to a football coach. For a volunteer, Courtney is giving quite a bit of himself, at the risk of his business and his own family, which consists of a wife and four children.
Courtney's players are a motley bunch, to say the least: one missed a year of school because he was in prison; another is a key member of the team missing most of the football season due to torn ligaments in his knee; and yet another is actually audacious enough to hope to go to college, but his poor academic showing in high school shows no indication he'll have any chance to keep up in advanced education. Despite all of this, Courtney has not given up on any of these young men – but will all of that good faith all go to waste or will it prove to be well-founded?
Review
With all of the stories about Penn State and Joe Paterno and Jerry Sandusky still fresh in the minds of most people, it is both reassuring and somewhat healing to see the tale of a modest high school football coach who is without corruption and earnest in his efforts to do the right thing by the underprivileged youth for whom he's responsible, at least on a part-time basis. It is easy to see why "Undefeated" wound up with an Oscar nomination for Best Documentary; it has heart and plenty of it and isn't at all ashamed.
If there can be any criticism of "Undefeated", it is that it trips over itself in trying to deliver its own message – mainly with respect to the racial component. For one thing, it tends to completely gloss over the obvious – the fact that all of the players from the poor side of town are Black while the coach and most of the people he brings in to help are White. The other part – and one which some Black audiences might find objectionable – is the fact that the documentary's theme tends to appear to be "White Man As Savior"; that is to say, without a White Man's insinuation of his own experience and value system, these young men would continue to be nothing and have nothing for the rest of their meaningless and likely incarcerated life. Assuming you might be able to put these things aside, you will find "Undefeated" not only enjoyable and entertaining, but also, a documentary that may restore your faith in humans.
After the screening, our instructor interviewed the filmmakers, Daniel Lindsay and T.J. Martin – both of whom share not only Director credit, but also Editor and Director Of Photography credit as well. These young men said that they wound up shooting for about nine months, filming every practice by the football team. Although the documentary is under two hours in length, they actually shot around 500 hours of film and had to edit it down until they found a coherent narrative containing a beginning, middle and ending (in that order).