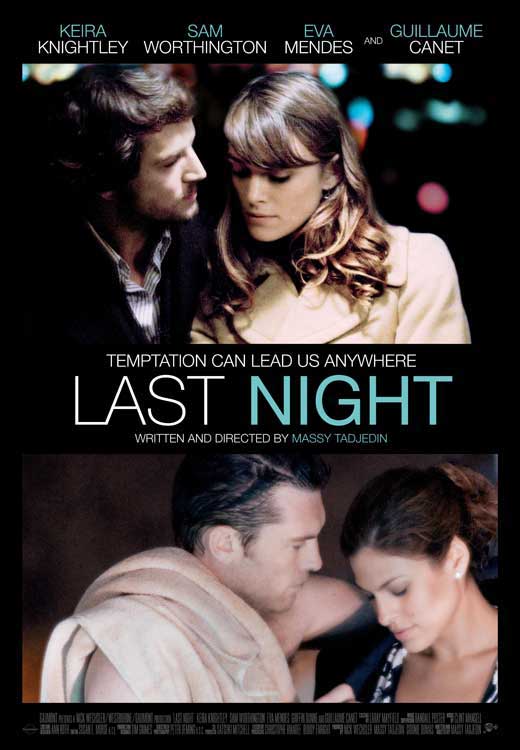 This week in my movie class, we saw a drama titled, "Last Night", starring Keira Knightley, Sam Worthington and Eva Mendes.


Synopsis

When a married couple are briefly separated during a business trip, will they remain faithful to each other?

Story


Upon returning home after a party attended mostly by business colleagues, Joanna (Knightley) wrongly accuses her husband Michael (Worthington) of cheating on her with Laura (Mendes), his sexy co-worker, who seems to be unusually attentive to him when the two are left alone for a moment. A heated argument ensues where Michael vehemently denies any infidelity on his part, but Joanna has difficulty believing him. With a short business trip to Philadelphia looming where he will be accompanied by Laura, Joanna is increasingly concerned about their marriage, but ultimately is convinced by Michael that nothing is going on between them.
While Michael is away, Joanna runs into Alex (Guillaume Canet), her ex-boyfriend visiting New York City from his home in France in order to meet with his publisher (Griffin Dunne). With her husband out of town, Joanna decides to meet up with Alex for cocktails that night; over drinks, it appears that although Joanna is now married, neither she nor Alex have ever completely gotten over each other. Their mutual attraction no longer deniable, it would seem that their romance is well on its way to being rekindled. As the evening wears on, it's beginning to look like Joanna will be the one to cheat on Michael.
During his business trip, Michael winds up spending time alone with Laura and discovers that she is in fact attracted to him and, despite knowing that he's happily married to Joanna, desires an affair with him. Flirting with Michael at a bar, she then leads him back to the hotel where they are both staying during their excursion; she next tries to seduce him by suggesting that they both go skinny dipping in the indoor pool after hours. With both spouses enticed by the opportunity for an illicit tryst, will they succumb to temptation or can they both somehow manage to keep their wedding vows?
Review
This movie recently played to some acclaim here in New York City at The Tribeca Film Festival, which is now winding down. One thing that is remarkable about "Last Night" – and this was pointed out by our instructor prior to the screening, but it certainly does become evident on watching the film – is that it was done by a woman who is a first-time director. Usually, such "first-timer" films are a bit rough around the edges due to the filmmaker's inexperience and – especially with an independent film – corners surely do seem to be cut in terms of technical quality. But this was not the case with "Last Night", which had the look and feel of a major studio release.
In spite of this, however, I am unable to recommend the movie as something to rush out to see in theaters, but may be worth a download/rental or viewing when it hits cable TV. The reason for this is due to the fact that I found the film to be somewhat plodding – an odd thing to say since the movie is only about an hour and a half long, but my justification for this is because the story seems to take a while to get going and even then, you're not quite sure exactly where it's headed. Our instructor remarked that it almost had the feel that the script could've been a stage play and perhaps that's the problem in a nutshell – it maintains something of a static feel to it without very much of the forward movement you expect from a film, but might be more prepared to experience with a play.
Prior to the screening, our instructor interviewed Massy Tadjedin, the film's writer/director. A young woman with a fascinating background – she was born in Iran and her family moved to California when she was only two years old – she grew up in the American culture but speaks both English and Farsi fluently. Following an Ivy League education, she has both written and sold several screenplays, but chose to have "Last Night" as her directorial debut. Despite being a first time director, she apparently found no issues as far as working with the actors or making decisions about how and where to put the camera as she said that she specifically didn't want to make an overuse of handheld cameras because she wanted to give the film an almost voyeuristic look and feel, where the viewer is nearly intruding or stumbling upon observing something intimate which was not intended for them to see.